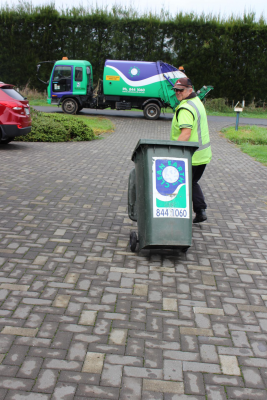 Hi there everyone - this message was updated on Friday 27th of March 2020
As an essential service, general waste continues on as normal - Greenwaste is as normal on Mondays.  If you do not require your empty please leave a message on our answerphone.
We've created a short video here;  https://youtu.be/Dgjfy3LO3Dk
DRIVERS WILL NOT ENTER PREMISES OR PROPERTIES FOR BINS
IF YOUR BIN IS NOT AT CURBSIDE/CLEARLY VISIBLE & ACCESSIBLE IT WILL NOT BE EMPTIED
ENSURE YOU CLEAN YOUR BIN'S HIGH CONTACT POINTS WITH HOT SOAPY WATER OR DISINFECT

BEFORE

YOU PLACE AT CURBSIDE AND

AFTER

EMPTYING
IF YOU DO NOT REQUIRE YOUR EMPTY PLEASE TELEPHONE US AND CANCEL IT SO THAT WE REDUCE OUR DRIVER CONTACTS WITH POTENTIAL POINTS OF CONTAGION AND REDUCE RISK TO YOU TOO
PLEASE DO NOT APPROACH DRIVERS TO ASK QUESTIONS/GIVE MONIES – TELEPHONE THE OFFICE ON 844 1060 – EMAIL ON info@cleanearth.co.nz – OR CHECK OUR WEBSITE cleanearth.co.nz
NO CASUAL SKIP BINS FOR NON-ESSENTIAL BUSINESSES - OUR MESSAGE ON CASUAL BINS IS HERE  https://www.youtube.com/watch?v=ImWSgs8TAYg
Take care everyone from all of the team at Clean Earth ltd – Ben, Laurence & Matt, your fantastic drivers appreciate your patience and co-operation.