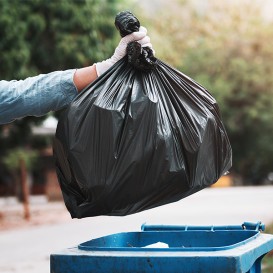 Available now!
Wheeliebin liners for your Clean Earth ltd or Council provided General Waste Bin.
That's right - you don't have to be a Clean Earth client to buy a supply of liners from us.
Liners keep your wheeliebin clean and hygienic; reducing odour, bacterial growth and reduces the need frequency of you cleaning your bin yourself.
All General Household Waste in Hawke's Bay is disposed of at Landfill.
A Landfill is not designed for the decomposition and 'breakdown' of waste - rather the waste is 'mummified' in this permanent, specialised storage facility... throwing waste directly into your wheeliebin is not 'saving the planet' which is why we promote use of custom sized 240L or 120L liners (especially for families using disposable nappies) - save water and keep your wheeliebin clean and tidy with Clean Earth ltd.
Better still, the liners we sell are manufactured right here in New Zealand.
Give us a call today. 
844 1060