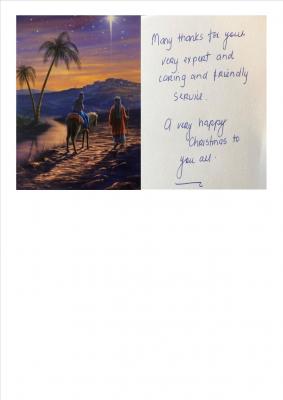 There's no question about it - 2021 has been tough on you, on businesses, on families, on us all.
That's why we're sharing this beautiful note that arrived today.
It made a difference.
If you can make a beautiful difference to someone right now, through a simple act of kindness, we say go for it!
Over Christmas and New Year some services do change - we have limited control over disruptions as often the disposal sites we use are closed on pubic holidays or observed holiday days.
FRONT LOAD - if your business is closed, please let us know.  If your business is open - please let us know.  If you require extra collections - leave a message any time on 844 1060 as they will be cleared regularly while our amazing office team take a break.  If we attend your business premises and cannot access a scheduled service that you have not cancelled, full charges may be applied.  NO WOODWASTE operates during the Christmas and New Year holiday weeks.
NO GREENWASTE ON MONDAYS DURING CHRISTMAS AND NEW YEAR - AS ALWAYS THEY WILL BE DEFERRED TO FRIDAY OF THE SAME WEEK.
TUESDAY GENERAL WASTE WHEELIEBINS MOVE TO THURSDAY FOR CHRISTMAS AND NEW YEAR WEEK.  THEN BACK TO NORMAL ON A TUESDAY FROM THE WEEK BEGINNING JANUARY 10TH.  If you require extra empties please leave clear details on our answerphone any time as emails may not be cleared as quickly.
NO PAPER/CARDBOARD RECYCLING SERVICES OPERATE DURING CHRISTMAS AND NEW YEAR WEEK - UNLESS YOU HAVE BOOKED IN ADVANCE.  PLEASE HOLD PRODUCT UNTIL SERVICES RECOMMENCE THE WEEK OF JANUARY 11TH - WHICH IS A RED WEEK ROTATION.
We do our very best to ensure you're fully informed about any and all disruptions and alterations - that generally only occur at this time of the year.  Thank you for your patience if we need to rectify any omissions of service due to our error or if you missed seeing your emailed notices, your hand delivered notices and newsletters or didn't reference these changes on the date lists provided to you.
Thanks again for your continued support of this locally owned and operated business from all of the team here; Robert, Deborah, Christine, Matthew, Ben, Andrew and Darrell (and of course, Cheese and Meili).