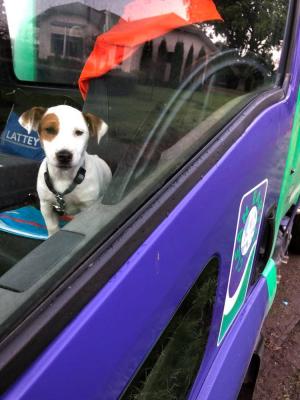 We're an animal friendly crowd at Clean Earth Ltd - and little Cheese is currently able to be seen out and about with driver Darrell.
He has his own seatbelt and is getting used to the truck as your wheeliebins are serviced.
For those of you that visit us in office, you'll have seen Meili the Chow Chow keeping an eye on things.
We do love our pets and they love us!
Your pet loves you too and will always defend your property when you're not there, that is why we stick hard and fast to the rule that we don't enter your property ever if your dog is roaming free. 
Give wee Cheese a wave or a toot when you see him out and about.